SELECT Hospital Tips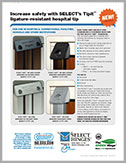 PDF info sheet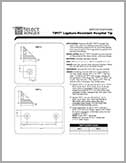 PDF Spec sheetHospitals, correctional facilities, schools and other institutions can use SELECT's hospital tips. The TIPIT can make doorways safer as well as save money and eliminate maintenance headaches by deterring patients, inmates or students from injuring themselves.
Three new options:
Hospital tip preps for concealed geared continuous hinges (excluding SL71)


Aesthetically pleasing. Easy to clean.

TIPIT

®

hospital tips and replacing worn-out hinges with SELECT's geared full surface, half surface or half mortise hinges


Increase safety and save money by salvaging existing doors and frames, and get SELECT hinges' durability that ends repeated repairs. The ligature-resistant TIPIT ® is PATENTED.

TIPIT

®

hospital tips added to new or existing hinges

Order the ligature-resistant TIPIT ® with new hinges or save money by keeping existing hinges while making current doorways safer. The TIPIT ® fits not only above SELECT brand hinges, but also above most other brands of continuous geared hinges. The ligature-resistant TIPIT ® is PATENTED.
HOSPITAL TIP PREP FOR CONCEALED HINGES
NEW AND IMPROVED!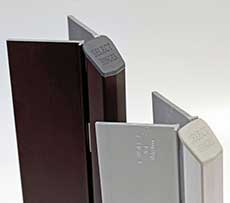 The new and improved SELECT angle-cut hospital tip provides slanted tips and durable polymer end caps that leave no exposed edges.
Angle-cut hinge preparation for concealed hinges
For new construction
Available on: SL11, SL14, SL18, SL24, SL26, SL27, SL31, SL38, SL44, SL48 and SL84.
LIGATURE-RESISTANT TIPIT® HOSPITAL TIP
NEW!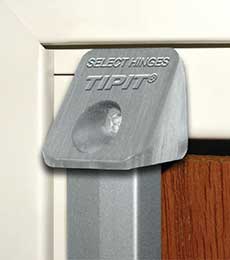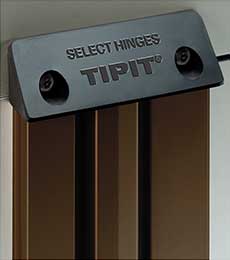 The new SELECT ligature-resistant TIPIT ® is made of durable aluminum or high-tech polymer and securely fastens to the door frame header with Torx ® security screws. The ligature-resistant TIPIT ® is PATENTED.
For new or existing SELECT geared continuous hinges (also works with most other brands of geared continuous hinges).
For SL21 and SL57 full surface hinges; SL53, SL54 and SL77 half surface hinges; SL52 half mortise hinges; SL11, SL14, SL18, SL24, SL26, SL27, SL31, SL38, SL44, SL48 and SL71 concealed hinges; SL41 swing clear hinge.
Metal TIPITs have an aluminum finish. For polymer TIPITs, choose Gray (G) for clear anodized hinges or black (B) for dark bronze anodized hinges